DW FACTS
by Dark Watcher
There have been DVD Players that play games such as NUON. There have been game consoles that play DVD movies (like PlayStation 2 and Xbox), but are you ready for another console / DVD hybrid?

The ZAPiT Game Wave was released in October of 2005 in Canada. It is essentially a game console that plays interactive simple group-oriented titles like trivia, traditional board games, word games, and card games. The device can also be used as a basic DVD Player. The Game Wave began selling in the North America with a retail price of $99.

What makes Game Wave slightly different is its use of individual color coded Infra-Red remote controls that can accommodate up to 6 players simultaneously. Imagine a game show where a player has to buzz in their answer. A player using a red controller for example would interact as the red onscreen player. The audio / visual quality of the games is about on par with an interactive video. The console is geared to casual gamers seeking social interaction, and a group gaming experience.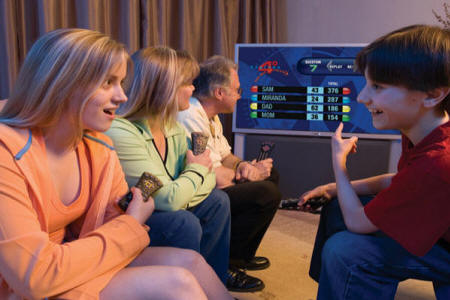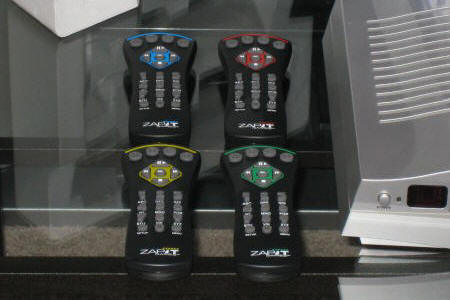 The Game Wave was designed by a company called Nytric. The console utilizes standard low cost DVD player components and connects to televisions using the same audio / video connections. They added a system-on-a-chip setup containing Altera MAX II Complex Programmable Logic Device (CPLD) chipset. This allowed Game Wave to be manufactured and sold for a low retail price.

The ZAPiT Game Wave comes with 4 color coded remote with batteries, and a pack-in trivia game called 4 Degrees. Additional games retailed for $25, and a package containing two more remotes (for the total of 6 players) sold separately for $25.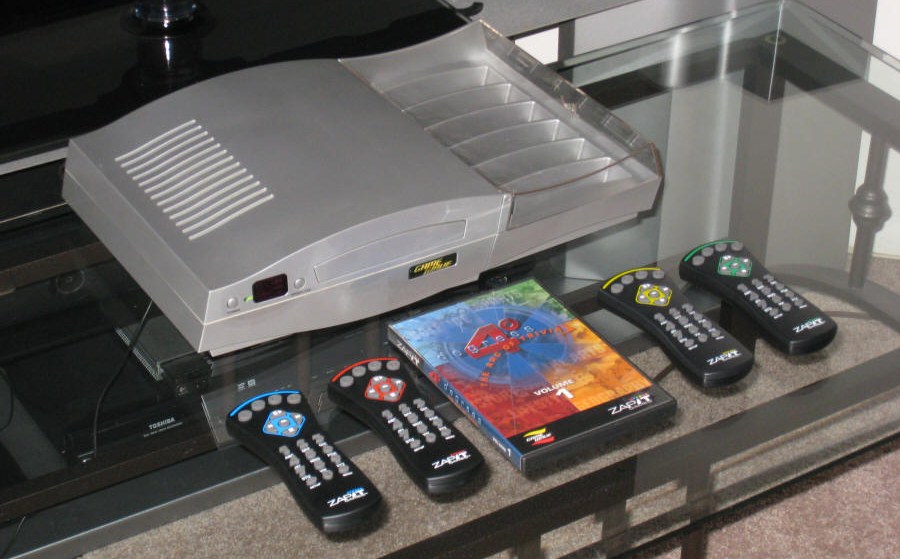 HANDS ON REVIEW
by 98PaceCar
The idea of a gaming enhanced DVD player was nothing new when the ZAPiT Games Game Wave was released. The NUON had already tried to meld the two technologies with limited success. However, the Game Wave was not released to appeal to gamers and was rather released primarily as a family game system. As such, the Game Wave doesn't feature any games from the mainstream genres, such as FPS or adventure, so most gamers won't be interested in it. What it does bring to the table are a number of solid games that are easy to approach for families and non gamers alike.

Designed by Nytric for ZAPiT, the console itself is little more than a standard, progressive scan DVD player with an embedded Mediamatics 8611 CPU for generating game graphics and reading commercial DVD content. The DVD drive control for the games is achieved by using an Altera Max II CPLD (Complex Programmable Logic Device). Half of the console (and part of what makes up the 'wave') is nothing more than a covered storage unit for the controllers. The overall quality of the console seems a bit cheap, but it is functional. It has better graphical capabilities than most standard DVD players, but it won't impress anybody with what it can render.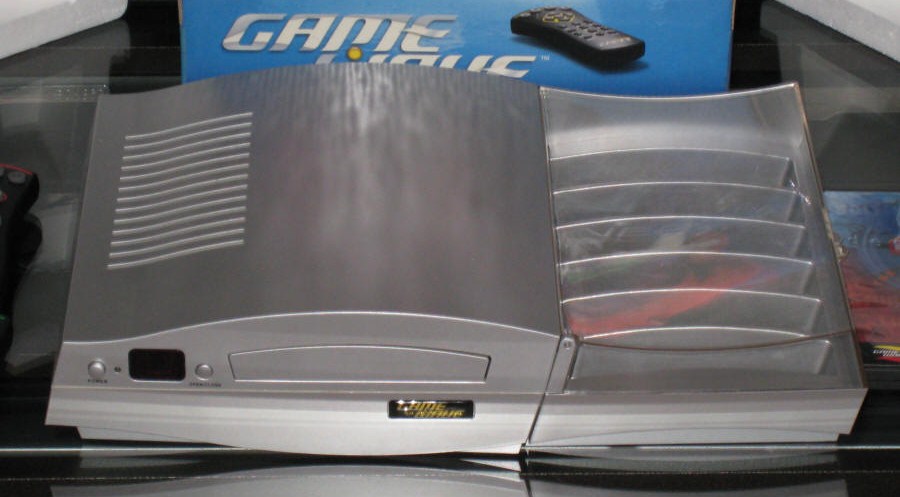 The controllers are essentially infrared remotes which help to make the system more accessible to non gamers. Each remote comes in a different color, four of which come with the console while the final two are sold separately. One of the biggest technical hurdles faced by Nytric was the need to have up to six remotes talk to the console at the same time, a difficult feat when using IR. This was achieved by using a separate beat frequency for each remote to ensure that each message is received by the console. The games are controlled by either a set of four choice keys or a set of four cursor keys with an enter key, depending on the needs of the game. The controllers also have the standard ten key number pad on them. They feel as sturdy as any television or stereo remote control.

Software for the Game Wave is developed in an interpreted language called Lua, which are very similar to Java based games one would find on the web. An interesting side effect to this choice is that it is possible to run the code on a number of different processors with little to no change to the code itself. The games, while simple, are a lot of fun as party games. Many of them are NTN style trivia games featuring yearly themed questions, general trivia, or even Bible specific trivia. For those that may not be familiar with NTN games, you are given four possible answers and clues are provided as time counts down while the number of points given for a correct answer is steadily decreasing. If you choose the wrong answer, you lose points. There is also a bonus round where you have to put events into chronological order.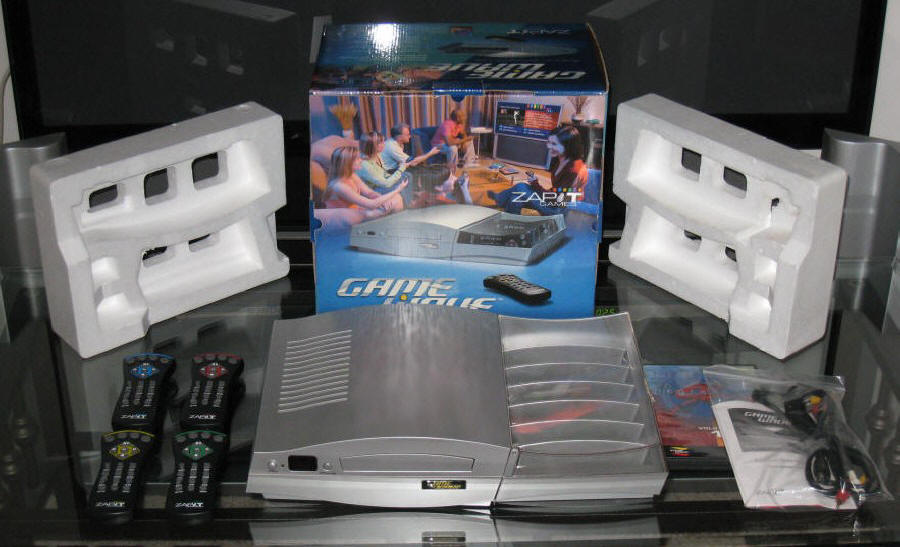 Alternately, there is another style of trivia game which is very similar to the style above, but allows for a certain amount of re-guesses as well as having two bonus rounds instead of one. One of the bonus rounds has you figure out which of three possible news headlines is true and the other is a true/false question. For both of these, you can bet 300, 600, or 900 points. If you get it wrong, you lose the points. All of the trivia games are full multimedia with sound, video, stills and animation.

The rest of the library consists of games such as ZAP 21 (blackjack), Letter Zap (Boggle), or Lock 5 (Yahtzee). Each of these games is designed to be multi player and are great fun with a group of friends. In keeping with the target audience of the console, there is even a Veggie Tales themed game available.

It is hard to recommend the Game Wave to someone looking for a modern gaming experience as all of the games are available in similar forms on either PC or even the current generation of consoles. It is a great system for parties and for families looking to modernize their gaming nights, but offers little outside of that. The system isn't available in any mainstream video game stores, but it can sometimes be found in clearance racks at Toys R Us or in some religious supply stores. To the collector, it's an interesting piece, but will likely never be sought after in the future.