MG FACTS
by Marriott_Guy
The OUYA is a video game console that was initially founded by Julie Uhrman in 2012, who then brought aboard designer Yves Béhar and product manager Muffi Ghadiali to assemble the rest of the team. Funding was provided through Kickstarter, eventually earning over $8.5M USD to completely finance the project.

OUYA is designed to be an open gaming system, for both hardware hackers and game developers alike. Built upon a modified version of the Andoid 4.1 (Jelly Bean) operating system, the system promises to open up the living room to the expansive indie market. All games and applications are required to have some type of free-to-try access. Initially developers will not be charged a fee for provided new titles, which will be digitally distributed through the OUYA Online Store. If a purchase is made, the author will receive 70% while OUYA will receive the remaining 30%. There are no licensing fees for the OUYA, so anyone with a creative mind and Android programming knowledge can submit their work. Boxer8 provides a free SDK for those interested in developing content for this system (see the Specs & Manuals tab for access).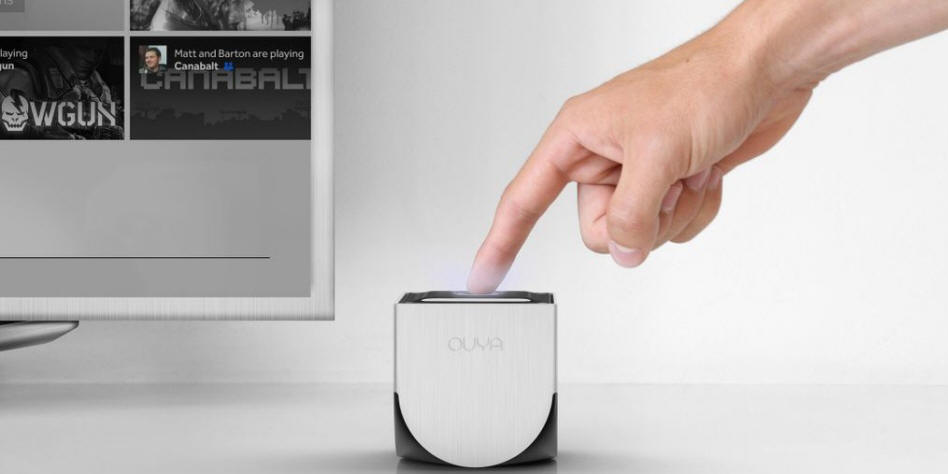 The console itself is extremely small, approximately the size of a Rubik's Cube on steroids. The hardware is powered by a Quad-core ARM Cortex-A9, sports 1GB LPDDR2 RAM with 8GB of internal Flash Storage. Ports include two USB 2.0 with both a standard Ethernet connection as well as Wi-Fi 802.11 b\g\n. A wireless Bluetooth controller is included with the system.

Development units were shipped out in late December of 2012. These consoles are basically the same as the system that were released in June of 2013, but differ in that have a clear plastic housing enabling clear sight of the hardware housed within the OUYA. A video of the contents is located on the Other Media tab of this page.

HANDS ON REVIEW
by Dark Watcher
The Boxer8 (now called OUYA, Inc.) OUYA is DW's first purchase of the eighth generation of video game consoles. Although we did not participate in the successful Kickstarter campaign, we went ahead and purchased the OUYA when it hit retail in 2013. This allowed time for the kinks, patches, dust, and updates to settle. After all, we have been around long enough to understand the console market.

The OUYA had a great deal of hype and momentum behind it and it came as no surprise to us that reviewers would be critical of the marketplace, capabilities and particularly the controller. Regardless of what was being said, the Dark Watcher went ahead and brought an OUYA home. We had a method behind the madness. To us, the OUYA represented change in the gaming marketplace. It is the "solid-ware" reality to the vaporware Indrema L600 Linux-based console conceptualized in 2001. We also were intrigued by the hack-ability, small form factor and developer tools. We also just happened to have $99 bucks burning a hole in our pocket. We rationalized that we lacked the full patience for a Raspberry Pi (a single-board computer for development) and if the OUYA failed in its potential, we would turn it into a portable media center.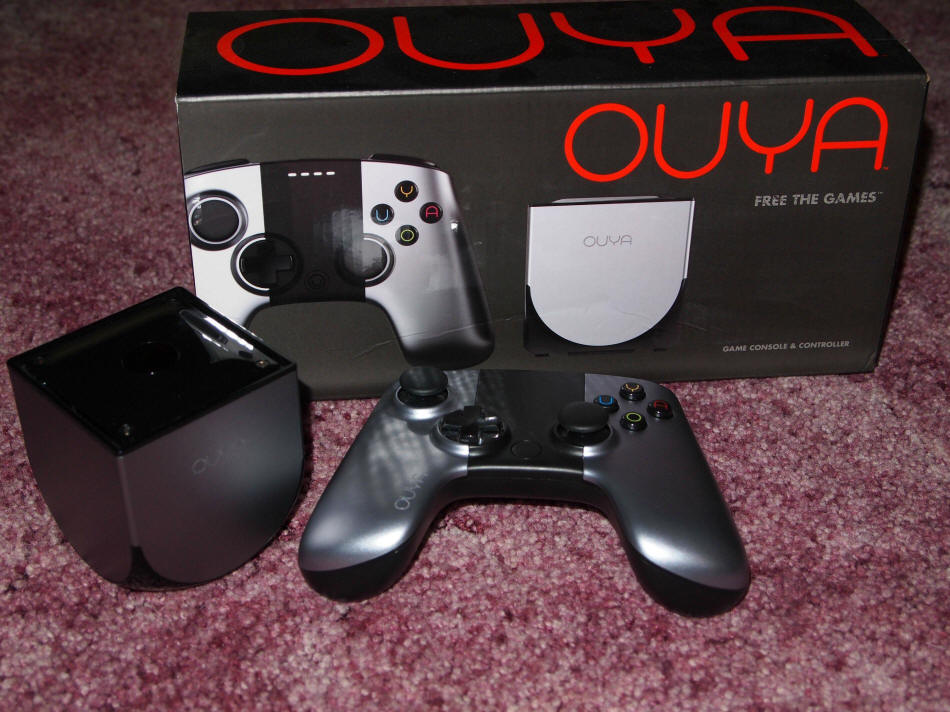 Special thanks to Jacob for the above picture of the retail release!
We have been pleasantly surprised with the OUYA hardware. The design is simplistic enough that we can pack it up in a small camera bag. Plug in an HDMI cable and a power cable and your set to go. There is also quite a bit of power within that small short-of-three inch cube. The console exterior feels sleek, durable and runs quietly. The silence could prove a concern as the OUYA does tend to feel warm after some good play time (cooling fan inadequacies?). The quad-core processor and NVidia GPU have held up well against all the games, programs and 1080p movies we have put it through. OUYA is capable of digital stereophonic sound over HDMI ARC with AC3, DTS and AAS audio pass-through support after a recent update. However, there is no TOSLink or 3.5mm analog for audio systems that lack HDMI. The 802.11 b/g/n wireless is adequate, but Ethernet remains best for media streaming. Limiting us to only one USB port was a disappointing and the limited power output it provides is of further disappointment. Sure, we were able to use a powered hub for expansion, but it takes away from the form factor. We felt it was reminiscent of slapping the Sega CD and 32x onto the sleek model 2 Genesis console (brick plugs and components everywhere).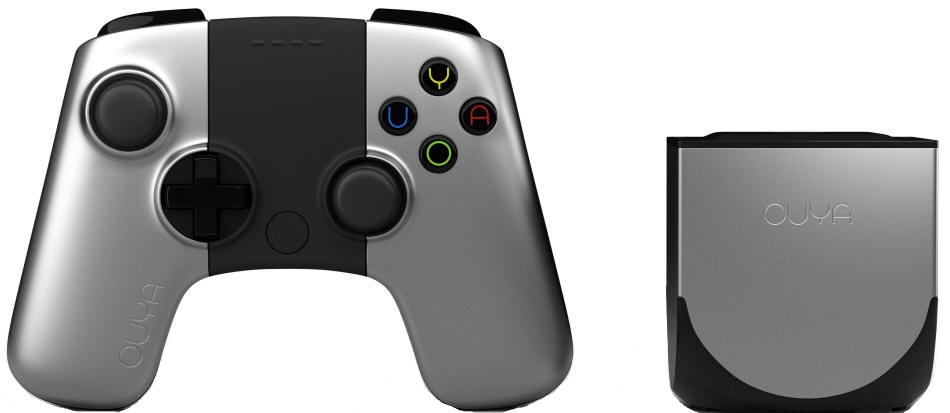 The complaints on the Internet concerning the OUYA controller are justified. We had purchased the OUYA prior to their eventual controller redesign. It feels like a clunky version of the original Xbox controller. It works well enough for simple games and interface navigation. Considering the cost of the new controller at $49.99 (as of this review), we could not fathom paying half the cost of an OUYA to test the fixes. The OUYA does allow the use of other controllers. We found the PlayStation 3 Dual Shock controller to be our favorite and it syncs quite easily with the OUYA's Bluetooth LE 4.0.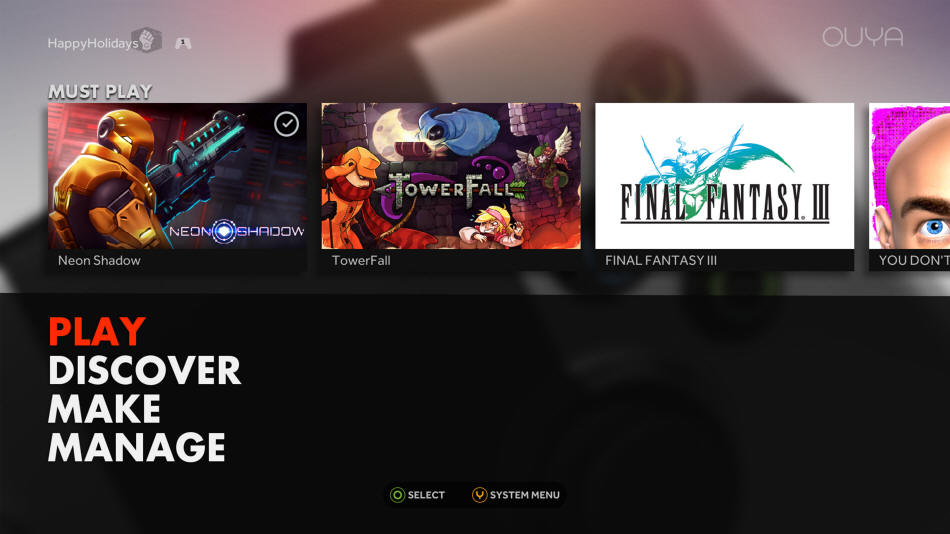 Once we had downloaded all of the updates and patches, we found the interface to be quite good. We could navigate between interface settings, their online Discover marketplace and developer section quite easily. We appreciate the OUYA's trial and free to play model. The games available in the Discover marketplace are a mix of known major publishers, but predominantly indie game developers. There are quite a few games that are throwbacks to the 8 and 16-bit generations. There are a few duds, but through the marketplace we have learned not to judge games on graphics alone. There are very few OUYA game exclusives. Many game titles are made available on other platforms. Graphically, the OUYA's NVidia Tegra 3 chip easily handles 2D games and produces 3D quality somewhere between the Microsoft Xbox at the close of the 6th generation and the 7th generation Nintendo Wii (based on recent game releases). A few of our favorites include Killing Floor: Calamity, Dub Wars and Shadow Blade. As of this review, there are over 842 OUYA titles available in the marketplace for download.

The Dark Watcher has provided mostly positive feedback on the OUYA. We are aware that OUYA's capabilities have already been outclassed by similar post-released devices and it possesses no more originality then an Android phone or tablet with HDMI-out and Google Play store games. We are also aware that our technical knowledge allowed us to open far more of the console's capabilities than a casual OUYA purchaser. The OUYA is of greater value to modders, hackers and developers. However, the low cost of the OUYA, the small yet powerful micro-console design and what it has done for indie developers, makes up for any of the its shortcomings.